Coconut Cauliflower Lamb Bowl with Chili Garlic Avocado Sauce 


I always say that the one way to get anyone to eat their veggies is to smother them in a tasty sauce.
This lamb bowl is paleo, dairy-free, and packed to the brim with veggies and healthy fats.
This bowl is also super versatile—throw in whatever veggies and herbs you have in the fridge and it'll still work out!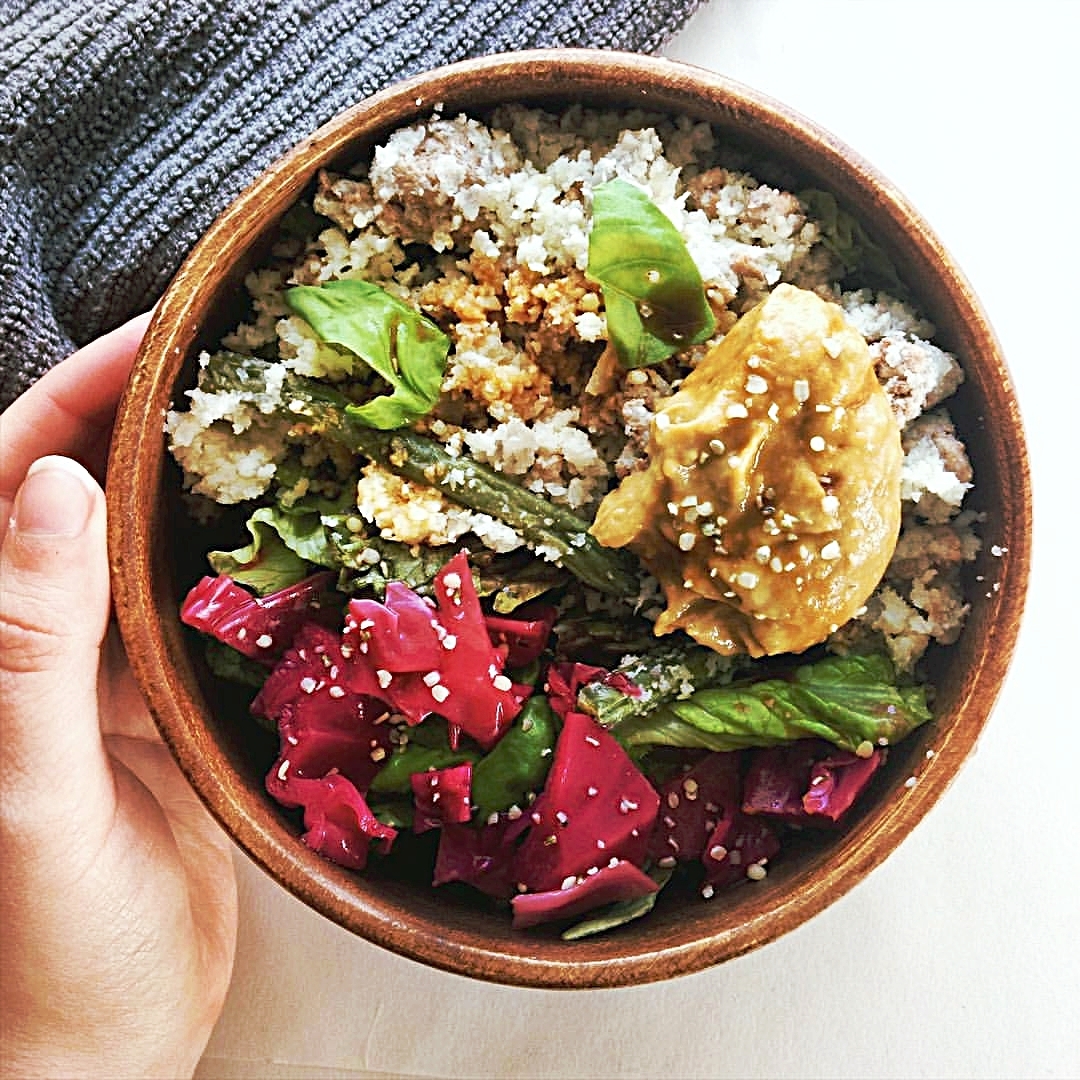 It tastes so good I promise you won't remember it's healthy.
For a vegetarian option: omit lamb and sub for bean of choice (chickpeas would work well).
 
Ingredients:

For the Lamb Bowl
1 pound ground grass-fed lamb

1 yellow onion (chopped)

2 tsp Moroccan seasoning blend (make your own here)

1 head cauliflower

1 red pepper (diced)

1 tsp minced garlic

½ cup coconut milk

1 bunch basil (chopped)

lemon or lime juice

salt/pepper to taste

cilantro for garnish

pickled or fermented veggie of choice (optional)
For the Chili Garlic Sauce
1 avocado

1 tbsp tahini

2-3 tsp minced garlic

½ cup coconut milk

½ tbsp. fresh grated ginger

1 tsp red pepper flakes

1-2 tbsp chili sauce (or your favorite hot sauce)

¼ tsp sea salt

pinch of pepper

2 tsp coconut aminos or gluten free tamari

1 tsp raw honey
Instructions
Make the chili garlic sauce by combining all ingredients in a food processor. (You can thin out the sauce by adding a few tablespoons of water if it's too thick. Taste and adjust seasonings as needed.)

Place in the fridge until ready to serve.

Chop cauliflower and place it in a food processor and process until "riced" – *You are going for a rice texture here.

Set aside.

Chop onion and pepper.

In a large pan, sauté ground lamb with the pepper and onion until no pink is left on the meat.

Season with the Moroccan seasoning.

In a separate pan, add in the cauliflower rice. Cook on medium heat for 3 minutes.

Add in ½ cup of coconut milk and cook on medium, coating the cauliflower rice.

Add salt, pepper, and lime juice to taste.

Remove from heat

Make bowls by placing the cauliflower rice on the bottom and topping it with ground lamb and pepper/onion mixture.

Top with cucumbers, fresh basil, and cilantro. I also love topping mine with whatever pickled or fermented veggie I have. Pictured above is pickled red cabbage.

Drizzle on your chili garlic sauce and serve!
*Join our email list below*